In this era of major movie studios earmarking their spots on the release schedule years ahead of time, it isn't uncommon to know about a movie long before it's anywhere near ready to play at your local cineplex — which means it definitely isn't too early to start making box office predictions for the rest of 2018. We've looked over the long list of movies Hollywood has coming your way this year, and while it's impossible to tell ahead of time which releases are really going to be hits and which ones will limp home from the box office in defeat, the odds are definitely better for some than others. Among the dozens of promising projects slated for release this year, here are some of the future blockbusters we're projecting to hit it big, in order of their expected release date. These are the movies that are going to blow everyone away in 2018.
Deadpool 2 - May 18, 2018
When Deadpool hit theaters in 2016, it grossed around $783 million and became the highest-grossing R-rated movie in cinematic history. The sequel has a lot to live up to, but if the trailers are any indication, Deadpool 2 looks like ia lot of foul-mouthed fun. Reynolds is returning as the "Merc with a Mouth," and he's bringing along his old friends: Brianna Hildebrand (Negasonic Teenage Warhead), Leslie Uggams (Blind Al), T.J. Miller (Weasel), and Monica Baccarin (Vanessa).
Even more exciting, Zazie Beetz will be playing Domino, a telekinetic killer, and Josh Brolin got incredibly ripped to play the beefed-up, badass Cable. Julian Dennison of Hunt for the Wilderpeople will also star, and it's believed that Jack Kesy will play the villainous Black Tom Cassidy. There's also some impressive talent behind the camera. After original director Tim Miller left the project over creative differences with Reynolds, he was replaced by David Leitch, best known for co-directing John Wick. Sadly, production was marred by the tragic death of stunt driver Joi Miller, but the show must go on, and Deadpool 2 is set to smash through the fourth wall on May 18.
Solo: A Star Wars Story - May 25, 2018
Nestled between The Last Jedi and Episode IX, Solo: A Star Wars Story promises fans the origin story of everyone's favorite scruffy-looking nerf herder. Plot details are a little scarce, but we do know Alden Ehrenreich stars as Solo, Donald Glover will appear as Lando, Woody Harrelson will star as Han's mentor Beckett, and we'll get to see Han meet up with Chewbacca and become a snarky space cowboy.
In addition to Glover and Harrelson, Solo: A Star Wars Story will feature Emilia Clarke, Thandie Newton, and Paul Bettany. Of course, if you're familiar with this movie at all, then you know it's had a pretty troubled history. The film was originally supposed to be directed by Phil Lord and Chris Miller of The Lego Movie, but after some major creative differences, they were replaced with Ron Howard. Worse still, Ehrenreich had to use acting coaches near the end of the shoot, and Paul Bettany was a last-minute replacement for Michael K. Williams, who was forced to bow out due to scheduling conflicts.
Still, despite the setbacks, we're walking into this thing with open minds. After all, it's a story about the world's coolest smuggler, it's filled with great actors, Lawrence Kasdan co-wrote the screenplay, and producer Kathleen Kennedy told Variety that the movie will have "a heist or Western-type feel." Rest assured, this space opera will make a truckload of cash come May 25. Here's hoping it'll be more like The Force Awakens than The Phantom Menace.
Hereditary - June 8, 2018
Ready for a fun time and a good scare? Then you should probably pass on Hereditary. Why? Well, according to critics, this isn't your run-of-the-mill fright flick. It's a movie that's going to leave you shaken to your very core. The reviews out of SXSW are absolutely glowing, even though critics are all trembling with fear. A.A. Dowd of The AV Club described it as "pure emotional terrorism," and it's got an ending that Daily Dead's Heather Wixson has compared to movies like Carrie, Kill List, and The Witch. In other words, prepare yourself for some cinematic trauma.
Starring Toni Collette (who's flexed her horror muscles in The Sixth Sense, Fright Night, and Krampus), Hereditary tells the story of a family dealing with grief after the death of a grandmother. Unfortunately, Grandma might not be gone, and she might not be so friendly. The trailer has a very Rosemary's Baby vibe, complete with some truly horrific imagery, like a reflection with a mind of its own, someone burning alive, and a pair of scissors about to decapitate a bird. The film also stars Gabriel Byrne and Ann Shapiro, and it's being hailed as the next Exorcist — it's pretty impressive that this is writer-director Ari Aster's very first full-length film. Look for Hereditary on June 8, and prepare yourself for what could be the scariest movie of the year.
Ocean's Eight – June 8, 2018
Directed by Gary Ross (The Hunger Games, Pleasantville, Seabiscuit), Ocean's Eight is taking the basic premise of Ocean's Eleven—a group of quirky cons pull off an incredibly elaborate heist—and giving it the old gender swap. A movie like this totally depends on the likability of its cast, and similar to the George Clooney version, Ocean's Eight has assembled one of the very best teams in recent memory.
Sandra Bullock will play Debbie Ocean, but instead of hitting a casino, she's got her eyes set on New York City's annual Met Gala. Specifically, she plans on fleecing her ex-lover (played by Damian Lewis of Homeland and Billions), but of course, she can't make off with the money without a little help. So Debbie Ocean assembles a criminal team to get away with the goods, which will give us a cast that includes Cate Blanchett, Rihanna, Mindy Kaling, Helena Bonham Carter, Anne Hathaway, Sarah Paulson, and Awkwafina.
Yeah, that's pretty incredible. But wait, we've got more. The movie will also star James Corden, Richard Armitage, and a member of the original Eleven (spoilers—it's Matt Damon). With a cast that awesome, it's seems likely that Ocean's Eight will totally be able to hold its own against Steven Soderbergh's classic. But hey, at the very least, it can't be any worse than the Frank Sinatra version.
Incredibles 2 - June 15, 2018
Disney-Pixar's The Incredibles was a blast, but writer-director Brad Bird took a long break—as he's oft been known to do—before getting down to work on a second installment. But finally, 14 years later, the Parrs are donning their masks and getting ready to save the world yet again. However, even though it's been over a decade in real life, Incredibles 2 is going to pick up right where the old one left off.
According to Entertainment Weekly, the sequel will open with our crime-fighting family battling The Underminer. Of course, that makes things a little tricky where the actors are concerned. While Craig T. Nelson, Holly Hunter, Samuel L. Jackson, and Sarah Vowell can pull off their original roles, Spencer Fox—the guy who played Dash—has grown up just a bit since the original movie. So he's been replaced with the far younger Huck Milner. Bob Odenkirk and Catherine Keener have also joined the cast, and while we don't know who they're playing yet, there's a good chance they might be some sort of dastardly duo.
As for the plot, the exact details are hard to find, but we know Mr. Incredible (Nelson) will be staying at home, watching after his superpowered baby, Jack-Jack. We also know the film will focus more on Elastigirl (Hunter) as she goes on an adventure and stretches her superpowers to new limits. Also, expect new and improved animation, giving us characters that, as Brad Bird explained, will be "more realistic" and "more expressive." The only other thing we know for sure about the sequel is that, no matter what, there will be no capes.
Jurassic World: Fallen Kingdom - June 22, 2018
When Jurassic World roared into theaters in 2015, it quickly became the fourth highest-grossing film of all time, raking in approximately $1.6 billion. With that kind of success, we all knew it was only a matter of time before we went back to that dino-infested island. And now, with Jurassic World: Fallen Kingdom, not only will we get to see raptors run amok, but we'll also watch an abandoned theme park get blown to smithereens.
Chris Pratt will reprise his role as Owen, and Bryce Dallas Howard returns as Claire. Together, the duo plans on rescuing a lot of terrible lizards from a massive volcano. Along the way, they're going to run into a bunch of new creatures, meet up with Ian Malcolm (Jeff Goldblum), and try to find Owen's old raptor buddy, Blue. Directed by J.A. Bayona, this blockbuster promises to be an over-the-top spectacle, complete with Chris Pratt and every dino in existence trying to escape a deadly cloud of smoke. And while we're wondering if any of these beasties will make it to the mainland, we think it's safe to say Fallen Kingdom won't go extinct at the box office.
Sicario: Day of the Soldado – June 29, 2018
Directed by Denis Villeneuve, Sicario was a master class in building suspense, but honestly, it's not the kind of film that needs a sequel—at least that's what everyone thought until it was announced part two would be coming out in 2018. While that may cause sequel skeptics to raise a wary eyebrow, rest assured, the film is in good hands. Sicario scribe Taylor Sheridan—the genius behind Hell or High Water and Wind River—wrote the screenplay, resulting in what's bound to be an incredible thriller called Sicario: Day of the Soldado ("soldado" translates into "soldier").
While Emily Blunt won't return, Josh Brolin and Benicio del Toro will reprise their roles as two of the scariest assassins on the planet. Plus, they'll be joined by Catherine Keener, Isabela Moner, and Matthew Modine. In place of Denis Villeneuve, Stefano Sollima will be in the director's chair, and he promises the new film will be "much more cinematic than Sicario" and will feature an "incredible amount of huge action sequences." We're also going to get a film that's far darker than the first, with Brolin describing the story as "severe" and Sheridan telling IndieWire that Soldado "makes the first one look like a comedy."
And as the original movie features decomposing corpses, attempted rape, and an offscreen torture sequence that's absolutely chilling, we're intrigued and terrified to find out what will happen on June 29.
The First Purge - July 4, 2018
The Purge franchise has been picking off victims and making political points since 2013, but have you ever wondered how this night of bloodshed started? We'll finally get an answer to that question with The First Purge, the fourth film in the series — and, as denoted by its title, the franchise's first prequel.
Directed by newcomer Gerard McMurray and written by franchise mastermind James DeMonaco, the newest film will take place before the Ethan Hawke original. Set on Staten Island, it will explore how the first Purge began and how the elites used their wealth to entice poor people to stay behind on the island. Speaking with Vulture, DeMonaco explained how the rich and powerful would "start promising very decent sums of money for the very poor people in the neighborhood. It becomes a monetization of murder and violent, incentivizing killing and keeping people around for them to be victims."
But in the middle of all the madness, a hero will rise. Played by Y'lan Noel, our protagonist is named William; according to DeMonaco, he's "an anti-hero inspired by Eastwood in Unforgiven, so it's this very cool, modern, kind of badass who redeems himself through the story." DeMonaco also told Entertainment Weekly that the cast will be 90 percent black, adding to the film's socio-political message. And, naturally, the film is set to hit theaters on July 4, when freedom will ring, fireworks will light the sky, and blood will flow in the streets.
Ant-Man and the Wasp - July 6, 2018
Audiences are in for a marvelous time when Ant-Man and the Wasp arrives July 6. With Peyton Reed returning to direct, both Paul Rudd and Evangeline Lilly will be suiting up as the titular heroes, and they'll be joined by quite a few familiar faces, including Michael Douglas, Michael Pena, Bobby Cannavale, and Judy Greer. But really, what we're most excited about are all the new characters. Walton Goggins is going to show up as Sonny Burch, the chairman of Cross Technologies. Laurence Fishburne will star as Dr. Bill Foster, better known as Giant-Man. And Hannah John-Kamen of Black Mirror will play the villainous Ghost, who appears in the comics as a bad guy that's part terrorist, part tech genius.
But most interestingly, Michelle Pfeiffer is switching sides, abandoning DC and Catwoman to play Janet Van Dyne, the first incarnation of the Wasp. In the first Ant-Man, we learned that Janet was lost inside the quantum realm, but now it looks like Scott Lang (Rudd) and Hope van Dyne (Lilly) will somehow rescue her from her decades-long adventure. Lily actually confirmed this when she told Vanity Fair, "In Ant-Man and the Wasp, they are trying everything in their power to safely enter the quantum realm and return back from it….If we do succeed in Ant-Man and the Wasp, then that does open a whole entire new multi-verse to enter into and play around in." In other words, things are going to get super weird after Infinity War.
The Equalizer 2 – July 20, 2018
Ready to see super assassin and hardware expert Robert McCall murder some gangsters with gardening tools? Your dreams may very well come true on August 3, when Denzel Washington returns for The Equalizer 2. Re-teaming with director Antoine Fuqua (who helmed the original, as well as Training Day and The Magnificent Seven), Washington is making history here, starring in his very first sequel. And he'll be playing against Pedro Pascal (Game of Thrones, Narcos), who Variety reports is lined up for the part of the bad guy. There aren't a lot of plot details out there, but come on, we're going to see Denzel Washington destroy a bunch of bad guys in incredibly creative ways. What more do you need to know?
Mission: Impossible 6 - July 27, 2018
Ethan Hunt (Tom Cruise) is at it again. Tom Cruise's director BFF Christopher McQuarrie (Jack Reacher, Mission Impossible – Rogue Nation) returns to helm a sixth installment to the covert op action-adventure series, and while details are scant as to what the actual storyline will be, we know the film will delve deeper into Ethan Hunt as a character. McQuarrie has promised that we will get "to know who Ethan is in this movie," and that our action hero will actually go on "an emotional journey."
It will be pretty fascinating to give the secret agent some added layers as a human being, and maybe that's why McQuarrie is bringing back Michelle Monaghan as Ethan's old flame, Dr. Julia Meade. On top of that, we've got the incredible Rebecca Ferguson, a mustachioed Henry Cavill, and franchise regulars Simon Pegg, Ving Rhames, and Alec Baldwin. Vanessa Kirby and Angela Bassett will also feature in the film, but sadly, Jeremy Renner is a bit busy saving the universe from Thanos, so he can't reprise his role as William Brandt.
In addition to that killer cast, we're super psyched to see the crazy stunts Cruise and McQuarrie have cooked up. Cruise trained for a year to prepare for some truly insane action sequences, and we can't wait until July 27 to see how the movie star puts his life on the line this time.
The Meg - August 10, 2018
Cue the creepy cello music, because Meg is short for "Megalodon," an ancient shark that's tormenting deep sea fishermen in Jon Turteltaub's adaptation of the Steve Alten bestseller Meg: A Novel of Deep Terror. The film features Jason Statham as a rescue diver who must help a stranded submarine and its crew escape the teeth of the prehistoric beast before it's fin for all of them, alongside Li Bingbing, Ruby Rose, Cliff Curtis, and Rainn Wilson.
Shark movies automatically earn some creeping dread just by their nature, but this flick looks to take us into the depths of our fears—it's literally dropping the distressed crew and their disabled vessel into the deepest parts of the Pacific Ocean. Plus, Statham's character has had some gnarly experiences with this beast before, which should ramp up the drama yet another tick. Anyone with galeophobia, claustrophobia, or even aquaphobia might have a tough time with this one, but everyone else looks to be in for an action-packed treat.
Captive State – August 17, 2018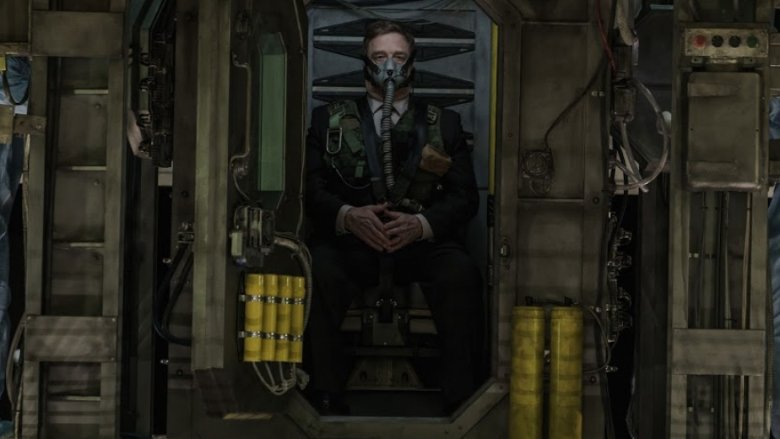 While he's probably best known for his work with the Coen brothers, John Goodman has some impressive sci-fi cred, thanks to movies like 10 Cloverfield Lane, Kong: Skull Island, and Matinee. So we're pretty excited to see Goodman return to the genre with Captive State, an alien invasion thriller from Rupert Wyatt, the same director who gave us Rise of the Planet of the Apes. According to the official plot description, the film is set in Chicago "nearly a decade after an occupation by an extra-terrestrial force." Along with actors like Vera Farmiga and Ashton Sanders, Captive State will focus on "the lives on both sides of the conflict—the collaborators and dissidents," and this science fiction flick will invade movie screens on August 17.
White Boy Rick – August 17, 2018
When Ricky Wershe Jr. was only 14, the Detroit teenager was recruited as a snitch by the Federal Bureau of Investigation, making him the FBI's youngest informant ever. The kid was then able to infiltrate a powerful gang and help the feds arrest some dangerous drug lords. But soon after, Wershe himself became a big-time dealer…that is (spoilers) until he was arrested at the age of 17 and sentenced to life without parole.
Really, a story this wild was just begging for someone to make it into a movie, and fortunately, director Yann Demange ('71) was only too happy to oblige. White Boy Rick—he's a Caucasian kid in a largely black city—is set to hit theaters on August 17, and it looks like Demange's movie will be a great opportunity to launch newcomer Richie Merritt into the Hollywood spotlight as the titular white boy, and he'll be acting alongside veterans like Matthew McConaughey, Jennifer Jason Leigh, and Bruce Dern, not to mention Bel Powley and Rory Cochrane.
As Ricky Wershe's story recently took a strange turn, it'll be interesting to see how these events will affect the film. We're also excited to see what could possibly be Merritt's star-making role in what promises to be one of the craziest true crime stories of the year.



Mandy - Summer 2018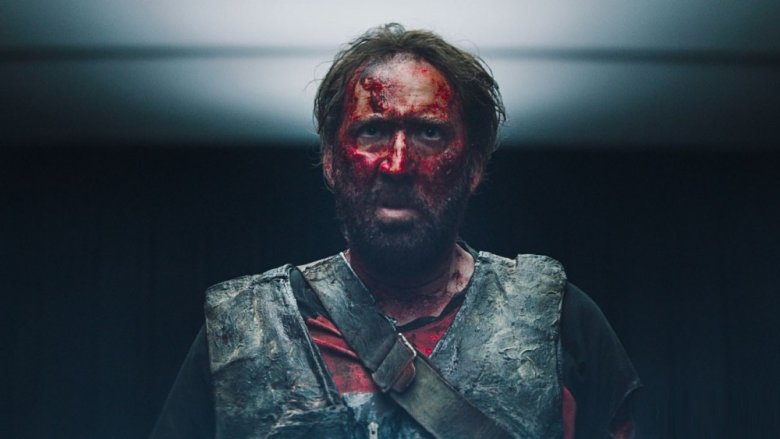 It seems like Nicolas Cage's entire career was leading to Mandy. All the freaky faces, all the onscreen breakdowns, all the awesome Nicolas Cage moments were building up to this. And the result is a big bloody of explosion of LSD weirdness and battle axe action, all mixed with rage, pain, and a lot of vodka. This movie will remind you that Cage is the greatest over-the-top actor of all time, and we mean that in the most positive way possible. Pretty much everyone who's seen Mandy has walked away ranting and raving, praising both Cage's performance and director Panos Cosmatos' dedication to making a truly insane film.
Mandy finds Cage playing a man named Red Miller. He lives a peaceful life in the mountains with his girlfriend Mandy (Andrea Riseborough), but everything falls apart when she's murdered by a folk singer-turned-cult leader (Linus Roache). Needless to say, this doesn't sit well with Red, who embarks on a one-man revenge mission that Dan Casey of The Nerdist describes as "an Orphic journey into hell itself as Red slaughters his way through crazed zealots, abyssal horrors, and anyone and everyone who stands in his way." And Adi Robertson of The Verge says the film "combines the most absurd aesthetic excesses of '70s and '80s horror films with the most absurd thespian excesses of Nicolas Cage," which honestly makes Mandy sound like the greatest movie ever made.
So when will we get to see Cage throw down an army of demon bikers? Well, in March, it was announced that RJE films had acquired the US rights, and the film will be released sometime during the summer. While you're waiting, be sure to check out Panos Cosmatos' first feature film, Beyond the Black Rainbow, a mind trip of a movie that will get you primed for the madness that Mandy has to offer.



The Nun - September 7, 2018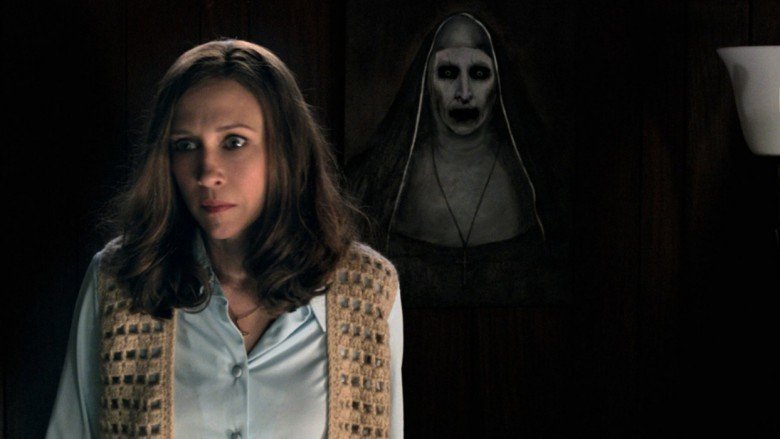 The Conjuring series is quickly making its case that horror movie franchises can be extended universes too. Following in the success of Annabelle, the franchise's first spinoff (which earned its own 2017 sequel), producers have tapped actress Bonnie Aarons to reprise her role as the Demon Nun from The Conjuring 2 in her own spinoff, titled simply The Nun.
The Conjuring 2 introduced the character, actually a demon named Valak who possessed ghost hunter Lorraine Warren (Vera Farmiga) during seances and made a child do terrible things to her family and herself. Lorraine managed to vanquish Valak; In The Nun, however, Farmiga's younger sister Taissa will be stepping in for a supporting role, which suggests the new movie is a prequel to The Conjuring 2—perhaps explaining why Lorraine was so vividly affected by Valak's presence in the first place.
Demian Bichir has also signed on to star as a priest called in to investigate a nun's death in Rome, and if there's anything we've learned about demonic presences in Hollywood history, it's that Italy tends to provide quite a creepy backdrop. This'll definitely be one to watch.
The Predator - September 14, 2018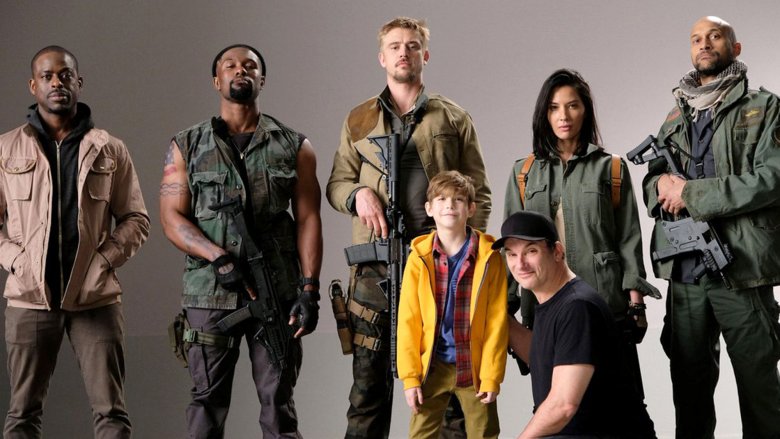 Kicking off a new round of interplanetary big game hunting, The Predator finds writer-director Shane Black—who made a blink-and-you'll-miss-it appearance in the 1987 original—making a long-overdue return to the franchise.
The latest addition to the series works as kind of a sequel and follows a group of heroes led by Boyd Holbrook. According to actor Thomas Jane, the plot will involve a group of PTSD-stricken soldiers who band together to kill the spine-cracking alien hunters, and as actor Jake Busey (who's playing the son of his dad's character in Predator 2) explained to Pop Culture, the new film "focuses on what the goal of the Predators is, and what their modus operandi, and why they come to the planet, and that type of thing."
Sterling K. Brown—probably best known for American Crime Story—described the film as having "a really wicked sense of humor," which is par for the course with any Shane Black flick. In addition to the aforementioned actors, The Predator will star Olivia Munn, Jacob Tremblay, Trevante Rhodes, Keegan-Michael Key, and Edward James Olmos. We can expect our ragtag heroes to face off against everyone's favorite skull collector on September 14.
Robin Hood – September 21, 2018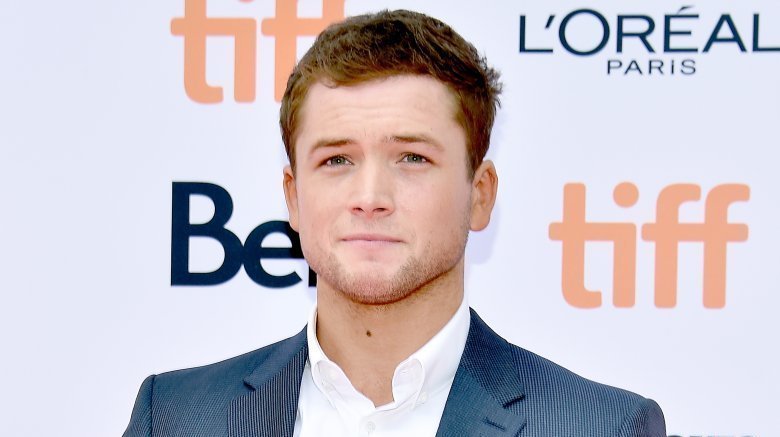 We've had Errol Flynn, Kevin Costner, and an animated fox. And now it looks like Taron Egerton (Kingsman: The Secret Service, Eddie the Eagle, Sing) will don Robin Hood's trademark green tights. Working with director Otto Bathurst (Peaky Blinders, Black Mirror) Egerton is bringing the outlaw archer back to the silver screen, although his version won't be quite as merry as the ones we've seen before.
Written by Joby Harold (King Arthur: Legend of the Sword), Robin Hood is going to be like a medieval version of Batman Begins, showing us how Robin of Locksley became Great Britain's most famous bandit. According to Deadline, the movie will take place after Robin returns home from the Crusades only to find that Sherwood Forest is now "rife with corruption and evil." Naturally, Robin decides to form a Saxon supergroup and fight the powers that be, only his war against the crown will have a "Dark Knight tone." In fact, Jamie Foxx—who's playing Little John—says the movie "looks like you're watching Zero Dark Thirty."
Taking Robin Hood in a dark direction is certainly an interesting choice, and with the winning combo of Egerton and Foxx, the upcoming action flick could be one of 2018's most exciting movies. Plus, Ben Mendelsohn—the greatest character actor alive today—is playing the Sheriff of Nottingham. Rounding out the cast, we've got Jamie Dornan as Will Scarlett, Eve Hewson as Maid Marian, and Tim Minchin as Friar Tuck, although strangely enough there's no word yet on who will play the infamous Prince John.
The House with a Clock in its Walls – September 21, 2018
Eli Roth isn't really known for his kid-friendly films, but he's looking to change things up with The House with a Clock in its Walls. Based on the classic children's book by John Bellairs, this Gothic fright flick tells the story of a 10-year-old boy (Owen Vaccaro) who's sent to live in a quiet Michigan town with uncle (Jack Black)…who turns out to be a warlock. There's also a witch next door, plus an apocalyptic clock (hidden in the walls, of course), and things get especially tricky when our hero resurrects a very evil being. This spooky movie will also star Cate Blanchett and Kyle Maclachlan, and it's set to scare kids on September 21.
A Star is Born - October 5, 2018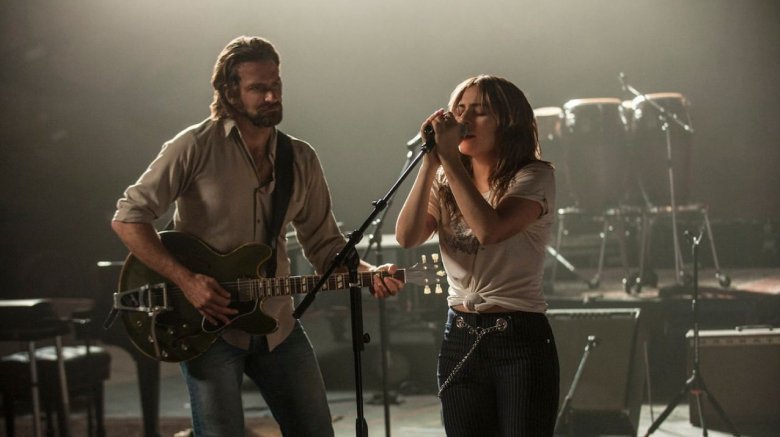 A Star is Born has already been to the big screen on multiple occasions. There was the 1937 version with Janet Gaynor and Fredric March, the 1954 movie with Judy Garland and James Mason, and then the 1976 film with Barbra Streisand and Kris Kristofferson. Now, Warner Bros. is giving it another go, only this time, the movie will focus on country music, and it'll feature some rather unique actors.
Bradley Cooper will play Jackson Maine, musician whose glory days are behind him, but on the way down, he meets a talented woman named Ally (played by, believe it or not, Lady Gaga). The two quickly fall in love, but Jackson sees a lot of potential in Ally and helps her achieve fame and fortune. But as his love interest becomes an international celebrity, Jackson starts suffering his own insecurities and jealousies.
Supporting Cooper and Gaga (who will be billed by her real name, Stefani Germanotta), we've got a rather eclectic collection of actors like Sam Elliott, Andrew Dice Clay, and Dave Chappelle. On top of that, the man behind the camera is Cooper himself, making A Star is Born the actor's first attempt at directing. To capture that authentic feel, the production has been filming at actual music festivals like Coachella and Glastonbury, and better still, Gaga is writing the music for the film. The movie hits theaters on October 5, and honestly, we're pretty excited to see Germanotta tackle her first role as leading lady.
Venom - October 5, 2018
Sony's plans for a Spider-Man cinematic universe, including Sinister Six and Venom movies, seemed to hit the skids when the studio abandoned its Andrew Garfield-led Amazing Spider-Man franchise in favor of another reboot, teaming up with Marvel for joint custody of the character's film rights and putting Tom Holland in the web-slinger's duds.
While the Sinister Six movie might still be dead, Venom is officially back on the schedule: the alien symbiote anti-hero is now slated to sling his way into theaters on Oct. 5, 2018, with Tom Hardy in the title role. Sony has a script in hand from Scott Rosenberg and Jeff Pinkner, both of whom boast experience with different versions of the Spider-Man franchise. Rosenberg did uncredited work on the first installment in Sam Raimi's trilogy, while Pinkner had a hand in The Amazing Spider-Man 2. But now their draft is being updated by Kelly Marcel, who's best known for adapting the screenplay for Fifty Shades of Grey.
Directing duties have fallen to Ruben Fleischer of Zombieland. Better still, Woody Harrelson is currently in talks to join the project, alongside Riz Ahmed, Michelle Williams, and Jenny Slate. As for the plot, Tom Hardy recently revealed the film is inspired by the six-issue series entitled Venom: Lethal Protector, where the supervillain is trying to avoid a vengeful father and a shady organization that wants to turn him into a science project. There also rumors we might finally get to see Carnage, and with this much talent involved, there's (hopefully) no way this will end up like Venom's last appearance on the silver screen.
Bad Times at the El Royale – October 5, 2018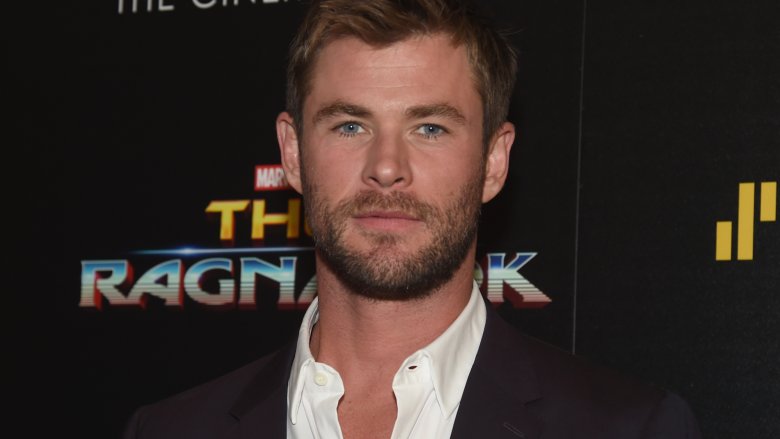 Ready for a violent showdown between Thor, the Dude, Anastasia Steele, and Maximus from Gladiator? Well, prepare yourself, because Jeff Bridges, Chris Hemsworth, Dakota Johnson, and Russell Crowe are starring in Bad Times at the El Royale, and that title alone sounds like we're in for straight-up sleazy awesomeness.
The movie will be written and directed by Drew Goddard—the guy who directed The Cabin in the Woods and adapted the screenplay for The Martian—and while plot details are scarce, we know the story is set in the '60s and involves a bunch of crooked characters who wind up at a Lake Tahoe hotel. As you might've guessed, it doesn't take long before things get bloody.
While we don't know who Hemsworth, Johnson, or Crowe will play, it's been reported that Bridges will star as an unlucky priest, alongside Cailee Spaeny as a Southern girl who's trying to keep a low profile. The movie has also been described as "a '60s noir thriller," and we'll get to see these unsavory characters go head-to-head on October 5.
First Man – October 12, 2018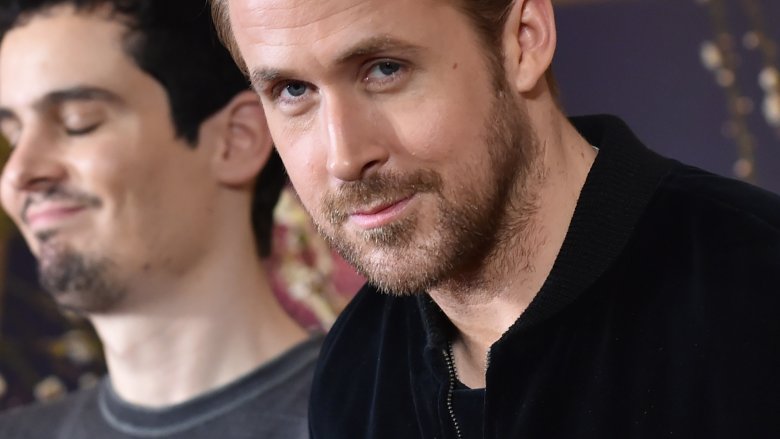 After the smashing success of La La Land, it looks like Ryan Gosling and Damien Chazelle will be joining forces again for First Man. But don't expect any dance routines or musical numbers this time around. Instead of singing "City of Stars," Gosling will be shooting for the moon.
First Man will tell the story of the Space Race, with Gosling playing Neil Armstrong, the guy who made history in 1969. Along with Gosling, Corey Stoll will be playing Buzz Aldrin, Lukas Haas will be playing Mike Collins (the third guy inside Apollo 11), and the cast will be rounded out by Kyle Chandler, Claire Foy, Pablo Schreiber, and Jon Bernthal.
Of course, Chazelle isn't the only Oscar winner involved in the project. The screenplay comes courtesy of Josh Singer, who worked on The West Wing, wrote The Post, and won a little gold statue for Spotlight. In other words, the film is in incredibly capable hands, so we can't wait for First Man to finally launch on October 12. T-minus several months and counting…
Halloween – October 19, 2018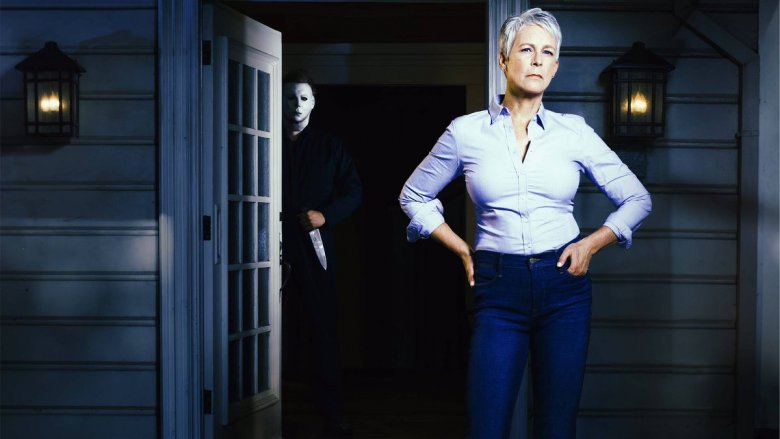 The Halloween franchise has had a pretty rocky history, but despite the unintentional horrors of its many inferior sequels, the first film is just as unsettling today as it was in 1978. Will any film ever top the original as far as slasher scares go? Danny McBride and David Gordon Green are certainly going to try. And while the duo have previously worked together on comedies like Your Highness and the TV series Vice Principals, they promise their new take on Michael Myers will be almost 100 percent horror.
Starring Jamie Lee Curtis as Laurie Strode, the latest entry in the franchise will ignore every film except for the original. And according to Collider, the project has John Carpenter's approval. Jason Blum of Blumhouse (the company behind Split and Get Out) is producing, and the incredible Judy Greer is also starring, playing Laurie Strode's daughter. Gordon and McBride's version is supposedly going to be the last Halloween movie ever, but just like Michael Myers, we suspect the series will eventually come back to life. This is one franchise that's impossible to kill, but either way, we have high hopes for Michael Myers' upcoming reign of terror.
Mowgli - October 19, 2018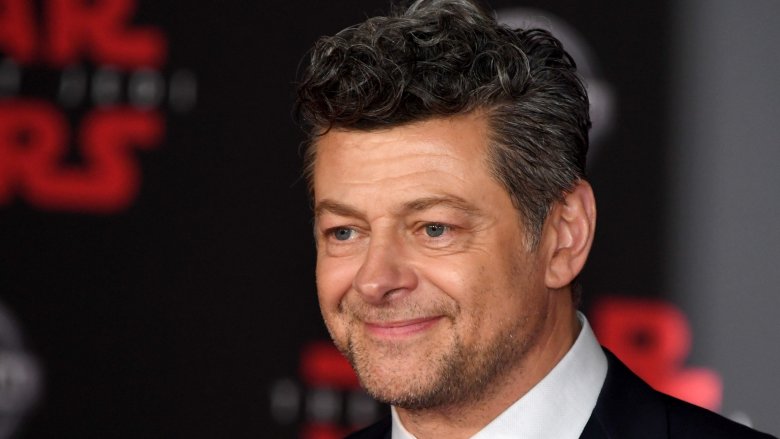 Not to be confused with Disney's animated 1967 classic, Jon Favreau's live-action version from 2016, or the slew of other adaptations inspired by Rudyard Kipling's classic tale, Andy Serkis' version of The Jungle Book—officially known as Mowgli—promises to be much closer to the source material than any other film. Speaking with Screen Rant, Serkis—who's directing—explained his film "is made for an older audience….It's darker, it's much closer to Rudyard Kipling's books, the tone of Rudyard Kipling's book."
And since this is Andy Serkis were talking about, expect a lot of motion capture. Serkis will star as Baloo, Benedict Cumberbatch will play Shere Khan, Cate Blanchett will star as Kaa, and Christian Bale will appear as Bagheera. Every actor will be performing both the voice and the movements, and the film was shot on location in South Africa. Plus, the movie just might make a star out Rohan Chand (Bad Words, Jack and Jill), who will be learning the laws of the jungle as Mowgli.
The Nutcracker and the Four Realms - November 2, 2018
Disney is releasing their next live-action fantasy just in time for Thanksgiving. The Nutcracker and the Four Realms is set to dance into cinemas on November 2, complete with gorgeous sets, elaborate costumes, and quite a few familiar faces. Inspired by E.T.A. Hoffman's story, the plot follows a young girl named Clara (Mackenzie Foy) who winds up in a strange world of talking nutcrackers, otherworldly beings, intimidating toy soldiers, and some scary rodents. Along the way, she'll encounter a sugar plum fairy that looks like Keira Knightley, a mysterious old man who resembles Morgan Freeman, and a villainous dictator who shares a certain similarity to Helen Mirren. The script will be written by Ashleigh Powell, the film will be directed by Lasse Hallstrom (What's Eating Gilbert Grape?, The Cider House Rules, Chocolat), and as promised by the trailer, we can expect this beloved legend to pirouette in a dark direction.
The Grinch - November 9, 2018
No, apparently we have not seen the last of Dr. Seuss' Christmas-stealing character. While Jim Carrey's turn as the holiday-hating beast was enough to satisfy the live-action crowd (for now, at least), Universal Pictures is rebooting the animated side of the story by way of co-directors Pete Candeland and Yarrow Cheney, with Benedict Cumberbatch lending his vocals to the title role.
Fantastic Beasts: The Crimes of Grindelwald – November 16, 2018
J.K. Rowling's Harry Potter spinoff series Fantastic Beasts and Where to Find Them is on deck for its second installment, following Newt Scamander (Eddie Redmayne) and his pals on another adventure in the world of witchcraft and wizardry. Only this time, Scamander is leaving behind the U.S. and heading across the Atlantic, sailing for Paris. So why is he going to France? Well, according to Variety, the sequel will feature a young Albus Dumbledore (Jude Law) who instructs our hero to chase down and apprehend Gellert Grindelwald (Johnny Depp), a villainous wizard guilty of magical crimes. Controversy aside, the film promises to begin the battle for the ages between the esteemed professor and his former bestie-gone-rogue.
Ralph Breaks the Internet - November 21, 2018
Arcade-style animated video game movies have been a mixed bag at the box office in recent years, but Disney's Wreck-It Ralph was a commercial and critical success that found a way to entertain kids and parents nostalgic for the 8-bit era. The sequel has Ralph and Vanellope von Schweetz entering the world of the Internet where they stumble upon a Disney-owned site and encounter Iron Man, C-3PO, and a whole host of Disney princesses, from Jasmine and Ariel to Pocahontas and Moana. Of course, the whole princess scene will be a parody of these characters, so expect a slightly different Cinderella from the one you're used to.
Rich Moore and Phil Johnston, who wrote the original script for Wreck-It Ralph, will share directing duties. "Our production team has been hard at work designing a world that takes something we all know– the Internet– but shows it in a whole new, imaginative way," said Rich Moore in a press release. "We're so excited to be working with Ralph, Vanellope von Schweetz, Fix-It Felix, and Sergeant Calhoun again, and we have new characters we look forward to unveiling," added Johnston. It's probably safe to expect a lot of emojis, plus expect to hear a character voiced by Taraji P. Henson, an actress who makes any movie ten times more awesome.
The Women of Marwen – November 21, 2018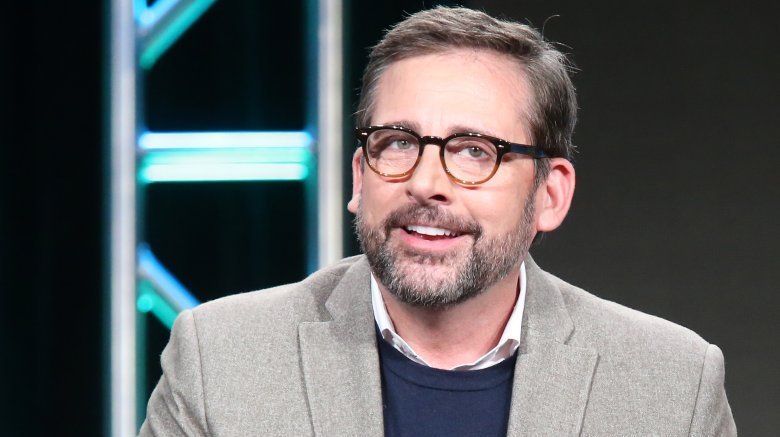 Robert Zemeckis has created some truly classic movies over the course of his career—e.g. Back to the Future, Forrest Gump, and Who Framed Roger Rabbit—and now he's adding another title to his impressive filmography. Inspired by the 2010 documentary Marwencol, Zemeckis will tell the story of Mark Hogencamp (Steve Carell), a crossdresser who was brutally assaulted by a group of thugs. Suffering from brain damage and PTSD, he coped with his attack by constructing a miniature World War II village in his backyard and concocting elaborate stories with his town full of dolls.
According to Deadline, this project is "about how artistic imagination can restore the human spirit," and in addition to Carell, it'll star Gwendoline Christie as Hogencamp's caretaker and Diane Kruger as a Belgian witch (one of Hogencamp's characters come to life). The film will also feature Leslie Mann and Janelle Monae, and it's scheduled to arrive in theaters on November 21. In the meantime, you can do a little research on the real-life story by checking out the trailer for the original documentary or reading about Hogencamp's life.
Spider-Man: Into the Spider-Verse – December 14, 2018
Ever since he first appeared back in 2011, Marvel fans have desperately wanted to see Miles Morales get his own Spider-Man movie. And now, seven years later, it looks like all their arachnid dreams are about to come true. On December 14, 2018, Sony plans on releasing Spider-Man: Into the Spider-Verse, an animated adventure following the young web-slinger as he fights crime.
Phil Lord and Chris Miller of The Lego Movie are credited as executive producers, and Lord penned the screenplay, so expect to see his unique brand of humor swinging across the screen. And as for the voice talent, we've got Shameik Moore (The Get Down, Dope) as Miles, Liev Schreiber as an unknown villain, and Oscar-winner Mahershala Ali as Miles' uncle, Aaron Davis.
In addition to the cast, the animation looks pretty incredible, with flashes of comic book panels mixed with beautiful neon images that—as pointed out by Matthew Dessem of Slate—evoke "the Shanghai sequence in Skyfall." On top of all that, the trailer promises that Miles won't be the only Spider-Man trying to clean up the Big Apple…or the multi-verse, for that matter.
Aquaman - December 21, 2018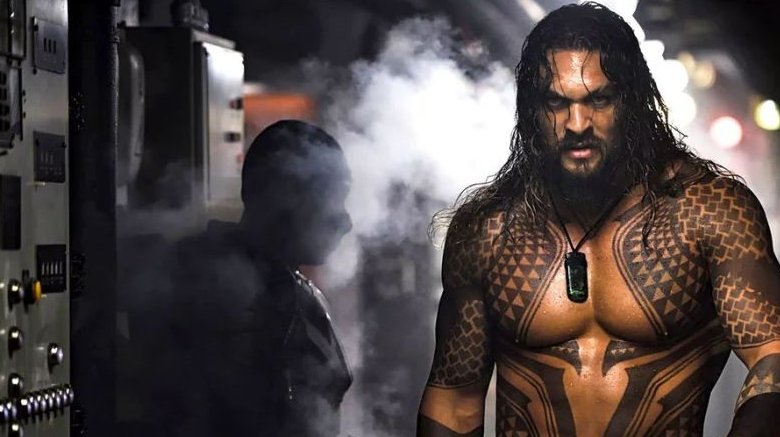 The introduction of Arthur "Aquaman" Curry in Batman v Superman: Dawn of Justice was but a taste of what's to come from Jason Momoa (Game of Thrones) as the trident-wielding hero, who'll embrace his destiny as the heir to the kingdom of Atlantis by stretching his sea legs … and some brute strength. Director James Wan (Furious 7) helms the watery actioner that will follow Curry's life from boyhood to kinghood. Amber Heard, Patrick Wilson, and Willem Dafoe are also on deck to star and Nicole Kidman will be playing Curry's mom, while Dolph Lundgren will show up as a powerful Atlantean king. We're getting a film with both Ivan Drago and Khal Drogo, which might be way too much muscle for one movie to handle.
Holmes and Watson – December 21, 2018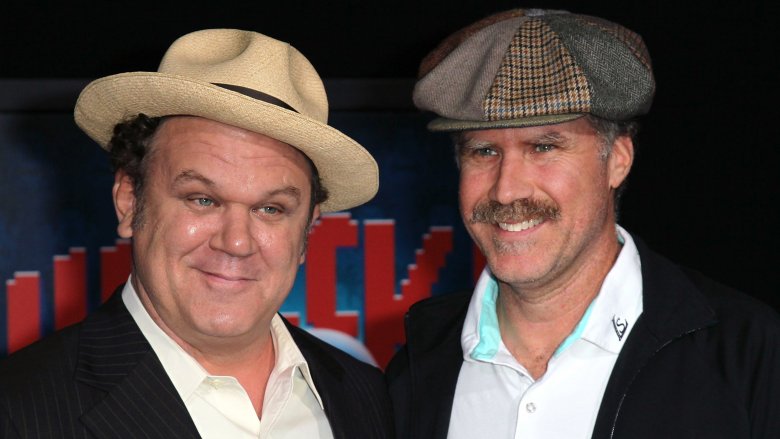 According to the Guinness World Records, Sherlock Holmes is "the most portrayed literary human character in film & TV," with over 250 appearances on both the big and small screen. (They added "human" because Dracula takes the overall prize with more than 270 appearances.) And that number is only going to get bigger thanks to Will Ferrell: the famous funnyman is set to play the world's greatest detective in the upcoming comedy Holmes and Watson, starring alongside his frequent co-star John C. Reilly.
As you've probably guessed, Reilly will be playing Holmes' faithful sidekick, Dr. Watson, making it the third time the two comedians have worked together. Filmmaker Etan Coen—the guy who wrote Idiocracy and Tropic Thunder—is both penning and directing the project, so expect more chuckles than actual crime-solving.
Rounding out the cast, we've got Hugh Laurie as Sherlock's brother Mycroft, and Kelly Macdonald will be playing the detective's landlady, Mrs. Hudson. Familiar faces like Rebecca Hall, Lauren Lapkus, and Rob Brydon will show up, and the inimitable Ralph Fiennes will star as (who else?) Sherlock's archenemy Professor Moriarty. While we don't know exact details about the plot, expect to see Reilly, Ferrell, and that iconic deerstalker in action on December 21.
Mary Poppins Returns - December 25, 2018
Author P.L. Travers might be rolling in her grave over this one, but there's reason to believe the new installment of the Mary Poppins story could recapture some of the magic of the supercalifragilisticexpialidocious nanny and her now-grown charges. Emily Blunt stars in the title role, with Emily Mortimer, Ben Whishaw, and Colin Firth in supporting roles. Lin-Manuel Miranda is playing a lamplighter named Jack, Angela Lansbury will show up, and Meryl Streep will appear as Mary Poppins' cousin. And perhaps most interestingly, Dick Van Dyke will return in a new role. If you'll recall, van Dyke played two parts in the original film, including an elderly banker named Mr. Dawes. This time around, van Dyke is set to star as Mr. Dawes Jr., which is a nice little touch and a great way to bring back to the legendary comedian. Let's just hope his British accent is better this time around.